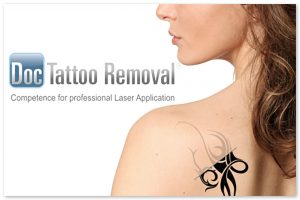 "We have the BiAxis QS in our product portfolio for several years now and are thoroughly enthusiastic. His treatment results are uniquely good and our customers thank us.
Despite his skills, it is a very subtle yet very powerful, robust laser system with an energy density of up to 2200 mJ. Very short warm-up phases and its mobility within the practices and clinics ensure smooth work processes without always being bound to one treatment room.
The tattoo removal treatments were significantly reduced compared to other lasers known to us with the BiAxis QS. This not only reduces the cost of operating the laser system, but above all it also promotes patient and user satisfaction.
Especially in our special field of tattoo removal, the laser works at the highest level! Its ultrashort 6 nanosecond light pulses significantly reduce the risk of scarring and, according to individual patient feedback, treatment is also less painful than comparable laser systems.
Since the laser is often used by several people in the clinics and practices, the individually programmable control element is a real safety feature. In addition to pre-set personal treatment parameters can be stored by the respective laser therapist according to his needs. The laser with its intelligent interface helps to significantly reduce treatment errors.
There is no need for annoying top or handpiece changes as the treatment parameters and changes in the wavelengths of light can be varied via the touch display. This not only has advantages in the hygiene and care of the laser system, but also shortens the workflow. The laser then automatically performs the calibration function for the remaining settings so that the skin surface to be treated can not be damaged. Every user can then readjust themselves.
Both very small and larger skin areas can be treated comfortably and precisely with the BiAxis QS. The laser beam diameter (spot size) can be adjusted step by step by means of an adjusting wheel directly on the handpiece and varied in steps. Thanks to its 2 wavelengths (1064nm and 532nm) it is suitable for a variety of tattoo inks and works absolutely reliable.
The service and customer care of the manufacturer HLS Hypertech Laser Systems GmbH is very uncomplicated and impeccable! The BiAxis QS should not be missing in any dermatological practice!"
CEO Thomas Sembt

Doctare Medical Services UG
Lyckallee 26
14055 Berlin
Phone: +49 (0) 30 80 10 59 99
E-Mail: info@doctattooentfernung.com
Webpage: www.doc-tattooentfernung.com