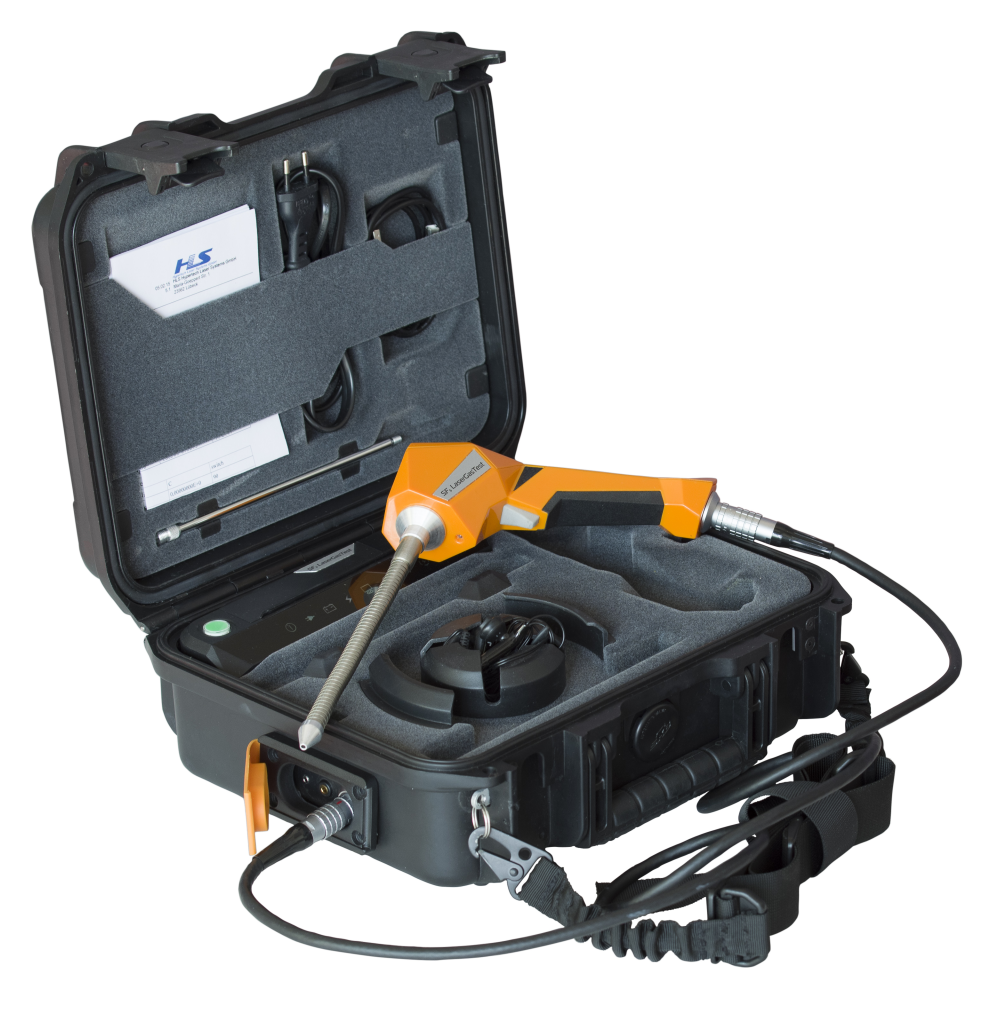 The photoacoustic gas analyzer SF6 LaserGasTest (short: LGT) is a portable gas detection system "Made in Germany" for fast and precise leak detection of the insulating gas SF6 (Sulfur Hexafluoride).
By combining laser source and photoacoustic spectroscopy (PAS), a significantly higher SF6 selectivity to comparable detectors can be achieved. To be more specific, LGT can detect the presence of about 10 ppb of SF6, which is equivalent to the detection of one SF6 molecule in one hundred million of air.
In addition to SF6, the system also detects compounds with a high absorption at a wavelength of 10.6 μm. However, the absorption coefficient of SF6 is 2 to 3 times higher compared to other air admixtures.

Its portable design and integrated power supply allow efficient diagnosis of gas-insulated switchgear (GIS) and accurate location of gas leaks as well as leak size determination in daily use.
Also the high speed gas flow rate along with the low response time of the photoacoustic detector reduces the recovery time of the system to less than 2 seconds.

SF6 LaserGasTest was developed in cooperation with Special Technologies, Ltd. (click here to learn more).
Included accessories:
An exchangeable sensor tip
Filters and tweezers for filter replacement
Shoulder strap
Simple and accurate measurements can be achieved by

Observation mode for a continuous independent measurement
Optional compensation of background concentration for optimal measurement of SF6
Possible recording of the measured values ​​in the non-volatile memory of the device (readout via the USB interface possible)
No consumables required (replacement of components such as sensors or batteries not necessary!)

Durable stable measurements, regardless of environmental conditions, i.a. by

Wide temperature range -20 ... +40 °C
Waterproof design in the closed state (IP65 classified)
Mechanical shock and vibration resistant
Continuous operating time of over 8 hours due to built-in rechargeable battery
Easy use with PPE (Personal Protective Equipment) possible, as with work gloves

Indoor and outdoor use, both in cable channels and difficult to reach places possible
Lightweight (total: < 8 kg) and compact design
Low-maintenance system (One calibration per year recommended!)
ROHS and CE compliant
LGT was developed for the following applications:
Leakage control of sulfur hexafluoride (SF6) or other gas mixtures containing SF6 in pressurized tanks or piping;
Detection of the SF6 concentration of leaks in gas-insulated switchgear (GIS);
Integrative measurement of annual SF6 leak rate from gas-filled isolators.
As a result, the device is suitable for the following applications, among others:
Quality control and factory testing of high voltage switchgear;
Service measures on high-voltage switchgear (field tests and maintenance of installed devices, etc.);
Leakage control of gas-filled RF waveguides;
Building Industry (leakage control of SF6-filled double-glazed windows);
Leakage control of fire extinguishing systems, where SF6 is used as an extinguishing substance;
Air-tightness control of complex pneumatic or hydraulic pipe systems.