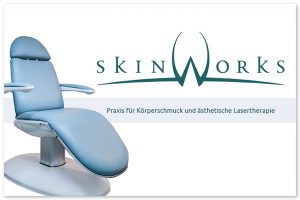 "We, the laser therapists at SkinWorks – Practice for Body Jewelry in Cologne, have been operating a wide variety of different laser skin treatment systems. Now using the BiAxis QS, we are more than enthusiastic about its results.
It is particularly convenient to be able to save individual patient data, so that different users can always access the relevant customer data. This makes the application much safer for the customer and is also very comfortable. The necessary sessions to the satisfactory removal / lightening of the tattoo and permanent make-up have been significantly reduced by the purchase of the laser. The touch display is very user-friendly and eliminates the time-consuming change of prisms as with other systems.
The BiAxis QS convinces on the whole line by simple application with optimal performance. The service, the maintenance and all occurring questions are carried out and answered very quickly and effectively.
Especially pleasant are the many possibilities to adapt the laser to the special requirements of the customers. In particular, by changing the spot sizes on the handpiece, the BiAxis QS is an extremely effective and precise laser system.
The stepless adjustment of the energy density (J/cm2) also allows an optimally coordinated treatment to the requirements of the area to be treated and the skin type of the customer.
Ultra-short nanosecond pulses significantly reduce the risk of scarring. The laser therapists at SkinWorks – Practice for Body Jewelry in Cologne, can fully recommend the BiAxis QS. "
Martina Lehnhoff



Proprietress

:
Skinworks Cologne


Practice for Body Jewelry and Aesthetic

Laser Therapies
Haendelstr. 2-4
50674 Cologne
Phone: +49 (0) 221 240 77 65
E-Mail: info@skinworks.de
Webpage: http://www.skinworks.de/
Executive:

Deutsche Gesellschaft für Piercing e.V. (

German Society for Piercing e.V.

)